Luminizing Sunscreen
Sunglow SPF 30
$28
Make summer last forever with this first-of-its-kind luminizing face sunscreen. Lightweight, hydrating, and lightly tinted for a sunkissed look that's glowy (never glittery!), all year round.
Sunglow is 100% mineral and reef-safe, with a nourishing blend of antioxidants for healthy, happy skin that's perfectly primed for any adventure.
Size: 2.0 oz / 60 g
No color matching required,
No white cast in sight.
Just a shimmering golden hue that enhances your natural glow and blends seamlessly across all skin tones.

Sunglow's unique tint uses four natural minerals to highlight the skin without adding color.

We also added a rich blend of antioxidants and non-comedogenic plant oils that nourish your skin with every application.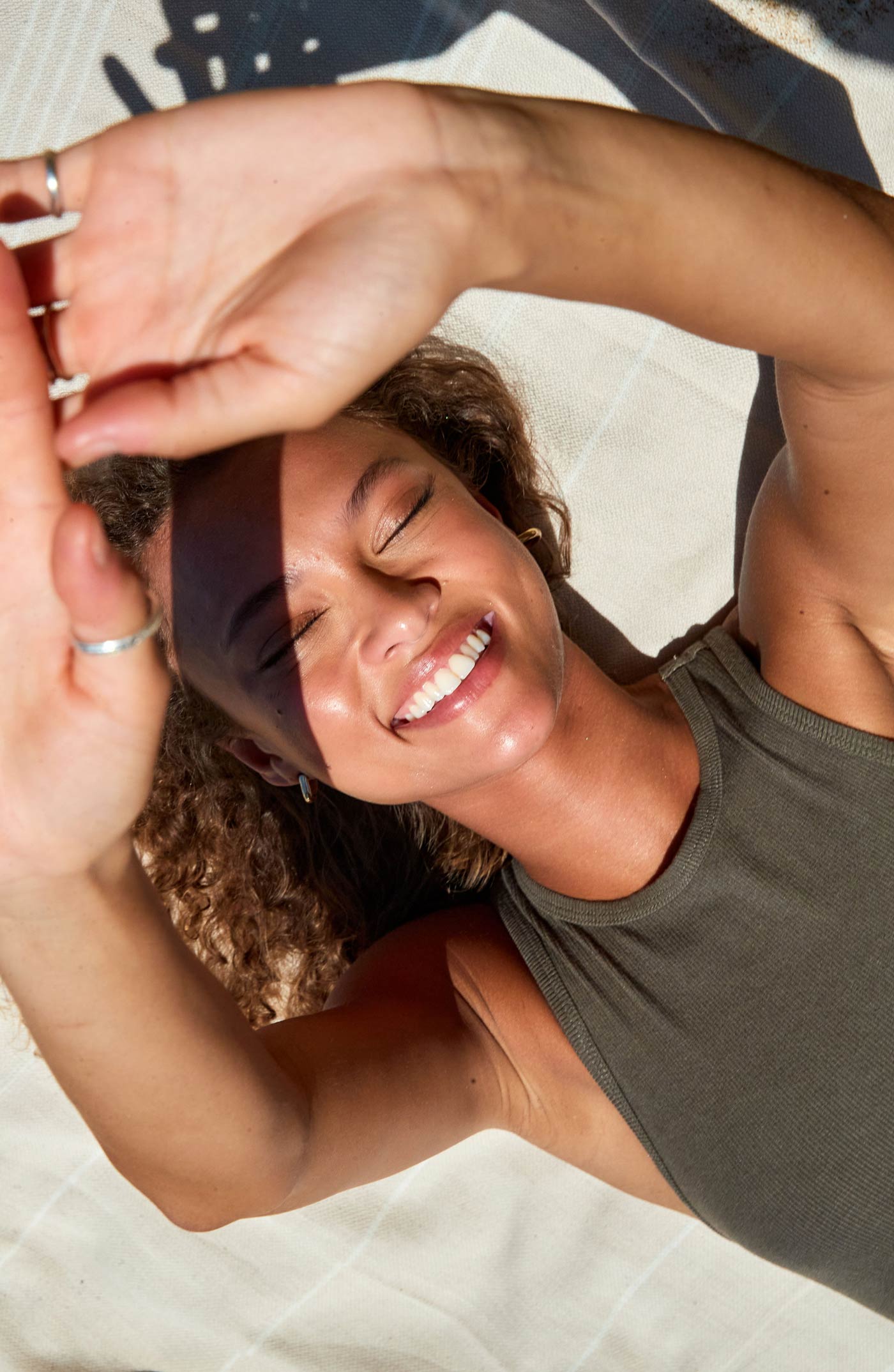 What's In It
Hero Ingredients
Jojoba Oil

Nourishing

Jojoba is a plant oil that mimics your skin's natural sebum and is a rich source of numerous fatty acids. Its lightweight texture and skin-soothing benefits make it a nourishing addition to any skincare routine.

Glycerin

Hydrating

Glycerin is a humectant, meaning it's a moisturizing powerhouse. It deeply hydrates skin, while helping to reduce future moisture loss, and leaves behind a dewy finish.

Sunflower Seed Oil

Softening

A hydrating, non-comedogenic oil from one of our favorite flowers, sunflower seed oil is wonderfully nourishing. It also is a natural emollient, which means it hydrates and softens the skin while also helping to improve skin's barrier function!

Natural Minerals

Shimmering

Sunglow's flattering rosy-gold hue comes from our unique blend of natural, non-irritating minerals. We work with an ethical mine in Hartwell, GA (USA) to source mica and iron oxides for our particular glow tint.

Rosemary Extract

Calming

Rosemary is a vitamin-rich antioxidant that helps to calm the skin, making it an ideal choice for those with sensitive or inflamed skin.
FAQs
While they're both mineral face sunscreens that can be worn every day, there are some key differences: Daily Dew is an extra hydrating, untinted formula that is water-resistant—making it a great choice for sweaty days or sporty outings. Sunglow has a light, rosy gold glow tint for a luminous finish. It's slightly lighter and more gel-like than Daily Dew in terms of feel, and isn't water resistant, making it a great choice for less active days. You can wear them alone, or layer for extra protection—try using Sunglow as an highlighter on cheekbones and brow bones for an extra-summery finish.
No! Quite the opposite, in fact. Sunglow's golden hue simply enhances your natural radiance—no color-matching required. Its unique blend of four pigments adds glow, without depositing color or tint, to the skin, making it universally flattering across light and dark skin tones. Sunglow is a perfect option for those with darker skin tones who are looking for a mineral sunscreen that doesn't leave a white cast.
Yes! We're all about making products that are Made Safe for People + Planet here, so we made sure that Sunglow would be reef-safe. It is a 100% mineral, physical sunscreen made with non-nano zinc oxide.

Sunglow is also free from phenoxyethanol (a commonly used clean preservative that has been shown to inhibit reef re-growth), benzenes, PEGs, and other marine pollutants. It is a safe choice to wear in places like Hawaii and Australia that have implemented suncare safety standards.
View All FAQs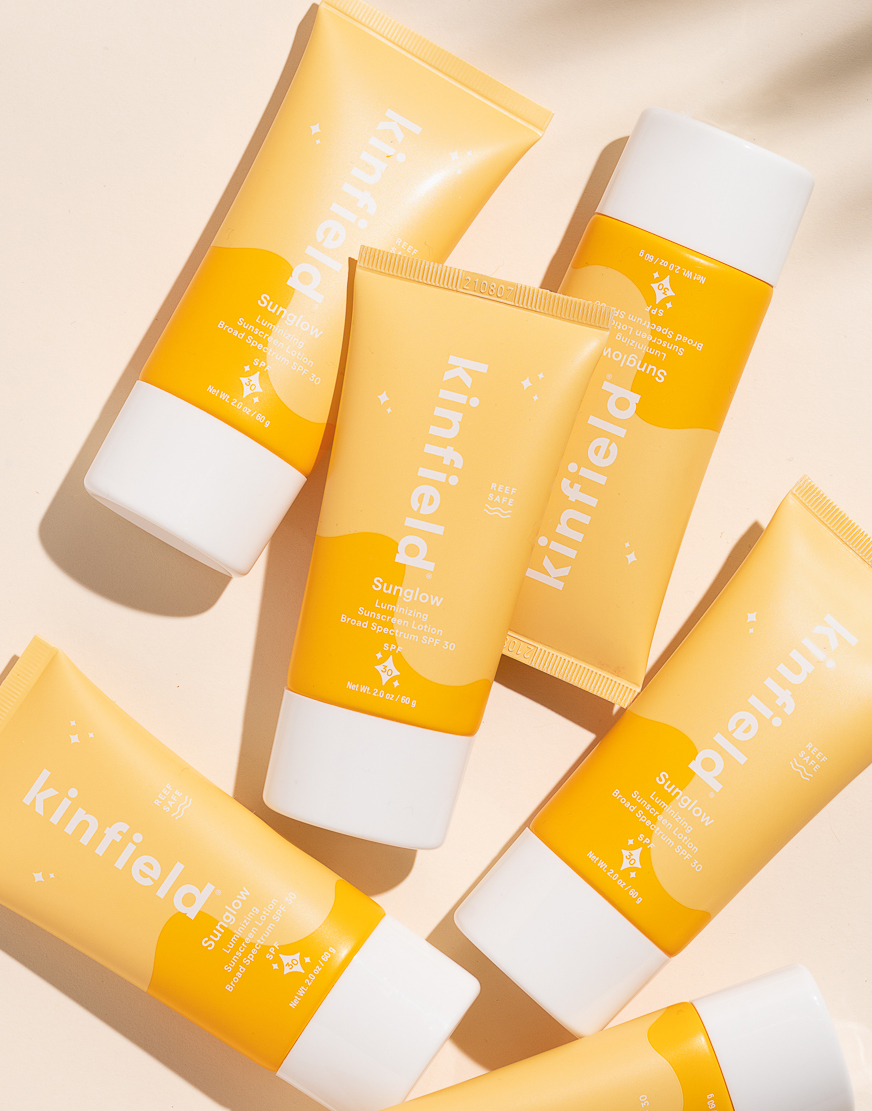 Use it when
Every day—even when you're indoors. Sunglow was made to be light enough to wear on your face every day, so you can glow gorgeously all year round.
Directions
Apply in 5-6 dots on the face and neck before rubbing in. You can also try adding it to your cheekbones or shoulders as an added highlighter—just be sure to layer it with another SPF if you aren't using it all over!
Recycling
This product is made entirely from recyclable materials.

Post-Consumer Recycled (PCR) Plastic Tube

Made from post-consumer recycled plastic, this tube and cap can be recycled along with your other plastic items. Be sure to cut open the tube and remove any remaining product residue, then re-attach the cap before recycling.

Paper Box

Made from SFI-certified paperstock, this box can be recycled along with your other paper products.